About us
and about Apple Inn
The Apple Inn is situated in the heart of Warsaw,
at 21 Chmielna Street
The rooms are in the attic of the 19th century Jablkowscy Building which was an annexe to the famous Jablkowscy Brothers' department store. The Apple Inn decor reflects the history of the city as well the history of the Jablkowscy family firm, by whom Apple Inn is run.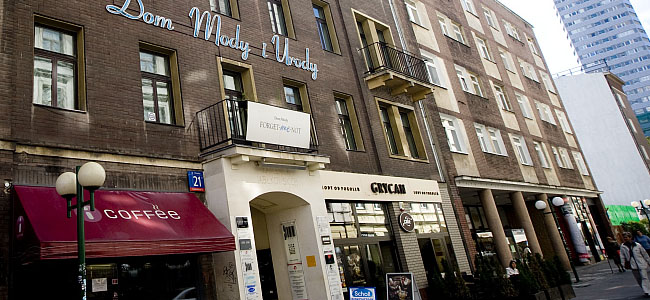 Apple Inn
The Apple Inn offers you clean, comfortable one, two or three person bedrooms (single, double or twin beds).
Each bedroom has an en suite shower room and WC, LCD Satellite TV and tea and coffee-making facilities. There is also free internet access throughout the facility. There is a lift in the building, and an equipped kitchen and a library. Additional computer access is available for those without their own computers.
A delicious breakfast is available from 6.00am on the ground floor.
You will be served by the famous French bakery – 'Kawiarnia Vincent'. The price of breakfast ranges from 20zł to 45zł
In the same building as Apple Inn, there are two cafés. The building courtyard displays contemporary photographs of Warsaw. Restaurants, cafés, clubs and shops are in the surrounding area.
Apple Inn is approximately 200 metres from the "Centrum", Metro station, as well as very close to bus and tram services. These provide easy transport within Warsaw. Warsaw's Central Railway Station (Dworzec Centralny), the restored Old City, the picturesque Nowy Świat and Krakowskie Przedmieście streets, The National Museum, The Palace of Culture and the National Stadium are all within a few minutes walk from Apple Inn.
Explore Warsaw in style
We have rooms available!
Dom Towarowy Bracia
Jabłkowscy S.A.
Apple Inn ul. Chmielna 21 lok. 1,
00-021 Warszawa